In July, HAVAL brand achieved a YOY increase of 356% against the downward trend of overall sales in Russian auto market, becoming the top best-selling model among Chinese auto brands in the market. Such a gratifying result is closely related to the launch of the global car HAVAL F7 in Russia. According to Russian auto industry insiders, since the launch of HAVAL F7 in Russia on June 5, it has attracted extensive attention and been warmly sought after of local people.
It is reported that HAVAL together with 59 HAVAL dealers'stores in Russia launched HAVAL F7 Experience Day in major target cities a few days ago. It saw active participation of locals and activities held with hot atmosphere. T As the "new protagonist of city", HAVAL F7 was favored by the "fighting nation" since its launch. For HAVAL F7, orders came with numerous thumbs-up from all walks of life. Why is HAVAL F7 so appealing to Russian consumers? Let us listen to the voices of people there.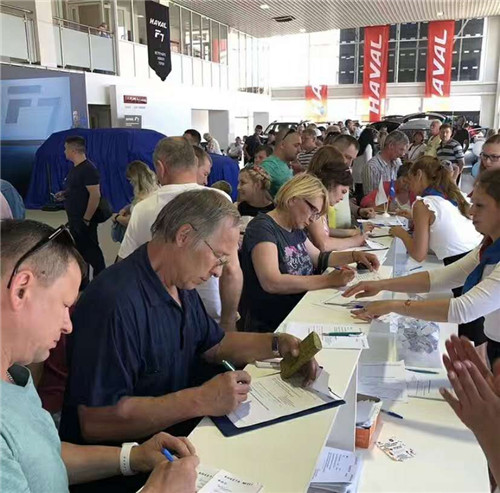 Media representatives thumb up their "old friend" HAVAL F7
According to Anton, a participant at HAVAL F7 Experience Day event, we learned that he had already seen HAVAL F7 at Auto Shanghai. "At the auto show, HAVAL F7 was outstanding and attracted many overseas journalists including me" said Anton, "We all spoke highly of it. Its appearance has unique charm, with an innovative design and a decorous feeling. We can see that it adopts an embracing design in its interior. The center console is tilted to the driver's side, which is in line with ergonomics and convenient for daily operation. The steering wheel adopts the flat design style at the bottom, making it much sporty. There are three kinds of LCD dashboards, full of technology. Family-style drumstick-like shift lever is also very attractive!"Anton explained the exterior and interior of HAVAL F7 like a designer.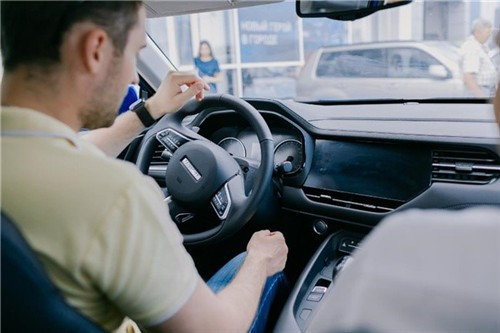 "At the show, we all hoped that HAVAL F7 could be sold in our country. I did not expect that in just two months, HAVAL F7 came to Russia as you wish. Although it's just the second time, I am familiar with HAVAL F7 like an old friend. I am glad to see how popular it is in the country and I believe that HAVAL F7 will sell well in Russia!"Anton said excitedly.
Distributors thumb up HAVAL F7, the rising star in their outlets
"In terms of active safety, HAVAL F7 has the intelligent security configuration far superior to that of models in the same level. It integrates AEB (Autonomous Emergency Braking), Driving Fatigue Detection, LCA (Lane Change Assist), LAW (Lane Departure Warning) and FCW (Front Collision Warning) and other safety assistance functions. For passive safety, its overall high-strength steel ratio exceeds 65%, which is the highest among its counterparts. Equipped with pilot and co-pilot air bags, front side air bags and front and rear head air curtains, it provides drivers and passengers with armour-grade safety protection." A salesman introduced the safety performance of HAVAL F7 with great familiarity to the customers at an outlet in Russia.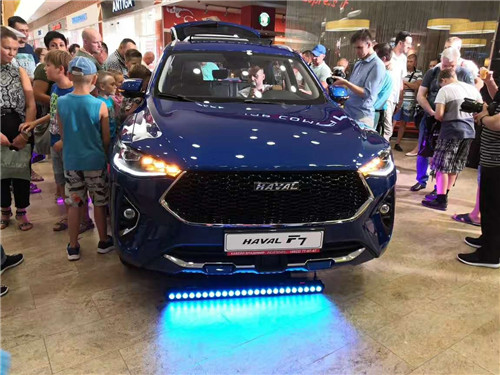 ""The launch of HAVAL F7 in Russia has injected new vitality into HAVAL outlets in Russia. It is the icing on the cake to HAVAL brand. It has the potential to transform the current auto market landscape in Russia and become the mainstay of the Russian SUV market in the future. We have received many orders since its launch. All employees in the outlet are optimistic about the sales prospect of HAVAL F7 and are confident that more people will choose it!"said Vika, who is in charge of the outlet.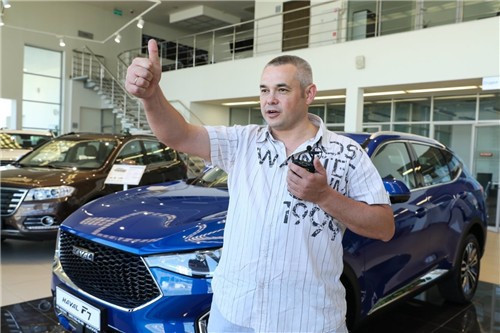 "Alex, who accompanied his friend Andre, was one of the first owners of HAVAL F7 in Russia. He strongly recommended it to Andre. "The first time I saw HAVAL F7 was on yandex (the website with the most users in Russia). After seeing the photo in which the state leaders of both China and Russia signed on the hood of HAVAL F7, I did a quick search for HAVAL F7. I learned that it is the sales star model in China, and HAVAL brand is the leading SUV brand in China. The price of HAVAL F7 was within my budget, and the configuration was far beyond my expectations. I immediately made an order and became one of the first owners of HAVAL F7 in Russia." he said.
"Speaking of his first experience of HAVAL F7, Alex smiles with content. "HAVAL F7 is powerful and has smooth shift and good passing ability. The HAVAL F7 I bought is equipped with a powerful all-terrain intelligent all-wheel-drive system, including six driving modes such as mud and snow. It can cope with large-scale extreme snow conditions with long period of time in our country.
Alex and Andre are typical figures of"Russian big man", so the ample space of HAVAL F7 is also one of the most satisfying aspects for Alex. The 2725mm of wheelbase brings comfortable driving experience. With Alex's strong recommendation, the burly Andre sat in the driver's seat and the roof was a fist's length from his head. The rear seat is 1280mm in transverse width, which is with capacity of three passengers of Andre's size riding at the same time and sitting comfortably. Stimulated by the hot atmosphere of the scene and strongly recommended by friend, Andre ordered a HAVAL F7 on the spot.
""It's a popular lifestyle for Russian family to drive to a cabin in the outskirts on the weekend. If we put the rear seats down, we can put things like suitcases, fishing rods, portable deck chairs in the car. It is useful. What's more, HAVAL F7 has good passing and safety performance, which can fully meet our needs for car in vacation." said Andre.
Conclusion:
Since its launch, HAVAL F7 has attracted domestic and foreign consumers with its outstanding characteristics and quality. It was not only favored and recommended by many media, but also was spoken highly of by the first batch of Russian experiencers. With its successful launch in the overseas market, we believe that HAVAL F7, the first global car of Chinese brands, will not only accelerate the globalization process of HAVAL brand, but also leave a big mark on the road of "Going Global" of Chinese auto brands.