On April 25, brand new HAVAL H7 - middle class SUV model was exhibited at the Booth 04 in Pavilion W4 of China International Exhibition Center with the theme of "HAVAL SUV ? Leading the Future Trend". The exhibition area covers an area of 1591 m2. BMW and Volkswagen were also exhibited in the same pavilion. Two concept models, two-model expectant mass-manufactured models, nine mass-manufactured models, one new-energy chassis and five powertrains were exhibited together at HAVAL booth in the style of Colosseo, manifesting the leader status and international vision of HAVAL SUV.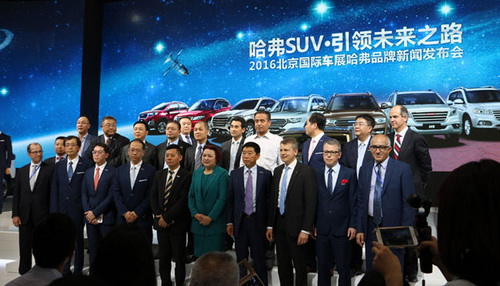 Predicting the Future Two HAVAL Concept Models Making Their Global Debut
At 11:00 a.m., the double-layer oval theater booth of HAVAL was brilliant and colorful, crowded with persons. Reporters from hundreds of mainstream automotive media gathered together for expecting the first launching of new HAVAL product.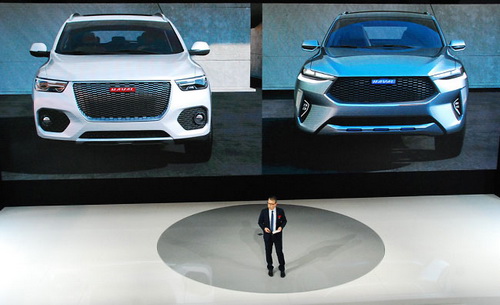 HAVAL concept vehicles HB-02 and HR-02

Magnificent CG technology video interpreted HAVAL's future SUV model concept. Following dynamic light show full of the future elements, two models of concept vehicles with impressive appearance showed their true colors gradually, arousing bursts of exclamation.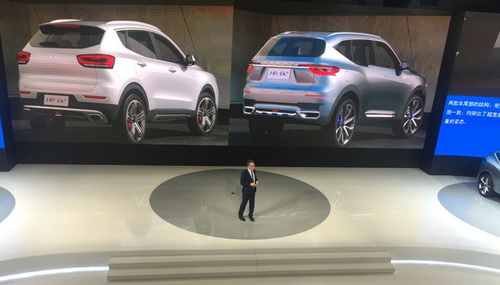 Pierre ? Leclercq is introducing concept vehicles HB-02 and HR-02

Pierre ? Leclercq, Vice President of Great Wall Motor Company Limited and HAVAL Design Director, appeared on the stage and explained the design philosophy of HAVAL SUV in the future with two models of concept vehicles HB-02 and HR-02 as the examples.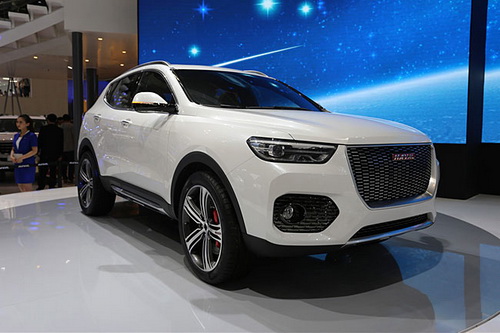 HAVAL concept vehicles HR-02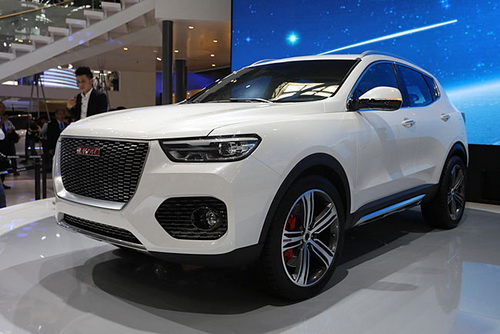 HAVAL concept vehicles HR-02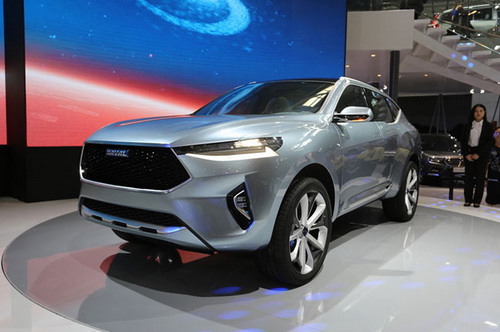 HAVAL concept vehicles HB-02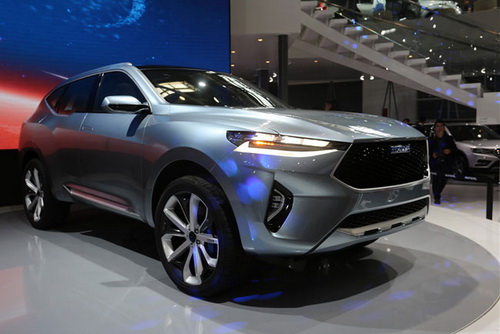 HAVAL concept vehicles HB-02

HR-02 is a compact SUV with red HAVAL logo and simple, generous, steady and dynamic design, representing the future modelling direction of Red Logo HAVAL; HB-02 is a mid-sized SUV with blue HAVAL logo, with the electric-gasoline hybrid design and the latest modelling design language adopted, showing the thought and exploration of HAVAL for future SUV.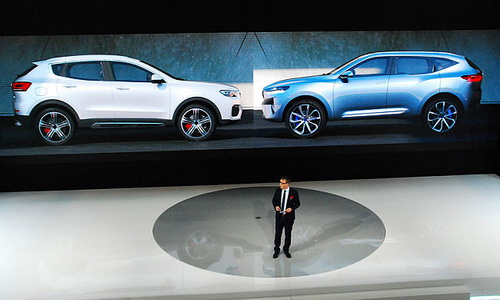 Two models of concept vehicles with stunning style show the professional strength and international vision of HAVAL in SUV field. International design team and the world's leading software and hardware equipment make HAVAL outstanding in SUV modelling design field, and make it become the wind vane of SUV's development in the world.
Grand Launching of HAVAL H7
Two models of concept vehicles that seem to be from science fiction world made the live audiences immerse themselves in the pamper imagination for future SUV, while subsequent launch of HAVAL H7 turned the audiences' dream into reality. Accompanied by the wonderful dance performance on the stage with interaction between people and screen, the large screen parted quietly. HAVAL H7 emerged on the stage slowly with the cheers of the live audiences as if it passed through the spatio-temporal tunnel.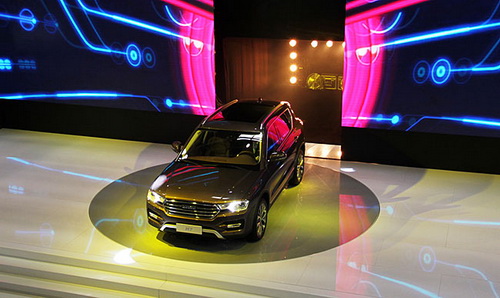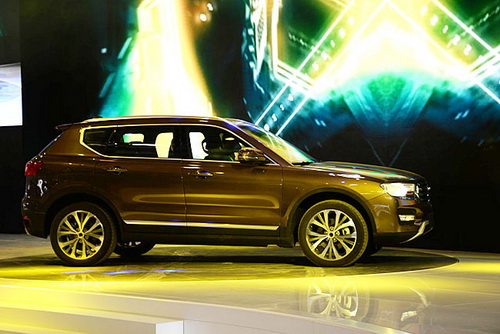 Samuel ?Chen, Vice President of Great Wall Motor Company Limited, explained the highlights of HAVAL H7 from all aspects. HAVAL H7 was designed and developed by an international top-rank team integrating global top-level supporting resources. By digital production management, HAVAL H7 is manufactured in accordance with strict test standard, integrating five features, i.e. safety, environmental protection, science and technology, entertainment and comfort into a whole.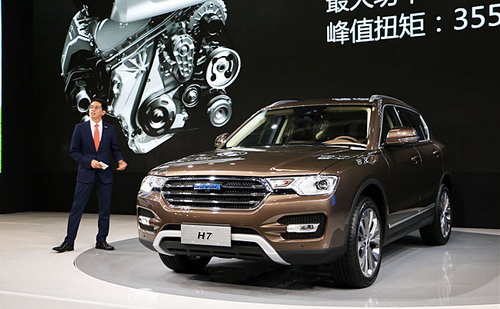 Based on fashionable wide-body design, HAVAL H7 has a body with golden ratio of 4700 *1925 *1718mm and its wheelbase is up to 2850mm. 2.0T double-channel direct injection engine is equipped with GETRAG 6DCT transmission, thus it just takes 9.3s to realize acceleration to 0-100km/h. High-specification interior design creates ultra-silent passenger compartment. It has luxury features such as virtual instrument, panoramic sky-dome sunroof and stepless electrically-operated tail door, and has multiple functions including automatic parking assistance and intelligence connection, etc. C-NCAP superior five-star safety standard is adopted. The used thermal forming steel occupies 12% of the whole car body. Such ratio is even larger than that of luxury brands. It carries the electronic safety and arming systems such as ESP Bosch G9, lane departure warning (LDW), lane keeping aid (LKA), side assist warning for reserving and cross-traffic alert (CTA), with 17 active and passive safety protection measures taken.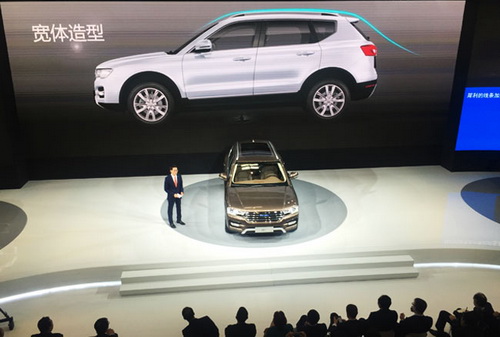 For such a product rated as the brand new benchmark of middle class SUV, when its selling price was displayed on the screen, the launch conference culminated.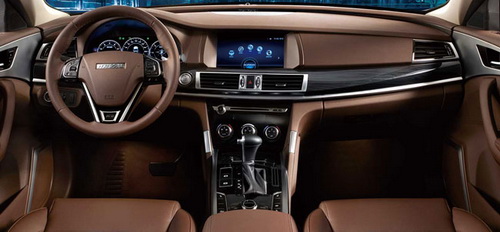 The reporters on site said that HAVAL H7 shows excellent driving and riding comforts, perfect power system, outstanding dynamics and abundant configurations in the previous test drive activity, and its strong product power is superior to the joint-venture brands at the same level. In addition, beyond psychological expectation of all the people, its selling price brings a great surprise to numerous customers.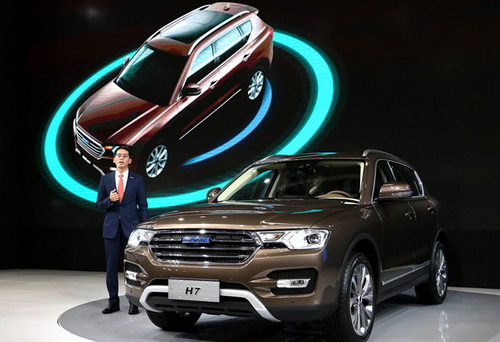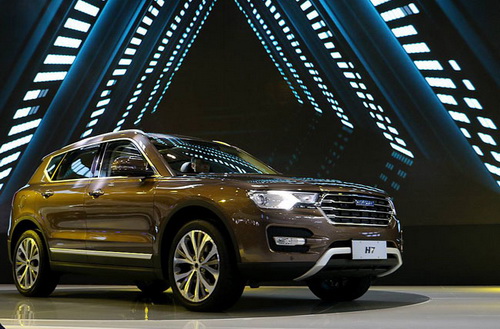 Relevant responsible person introduced that marketing of H7 marks that HAVAL has covered all segments of mainstream market. HAVAL H7 will become another star model of HAVAL brand to expand the market of middle class SUV with price ranged from RMB 150,000 to RMB 200,000.
Focusing on SUV Showing Obvious Effect HAVAL's Performance Keeping Leading Status
In addition to above-mentioned new cars, 1.5T HAVAL H6 Coupe launched before the automotive show also attracted numerous young audiences by virtue of its fashionable and dynamic style, delicate workmanship and all-around upgraded quality.HAVAL H6 Coupe 1.5T model adopts optimal power combination. The model is the most cost-effective SUV in comparison with those at the same level.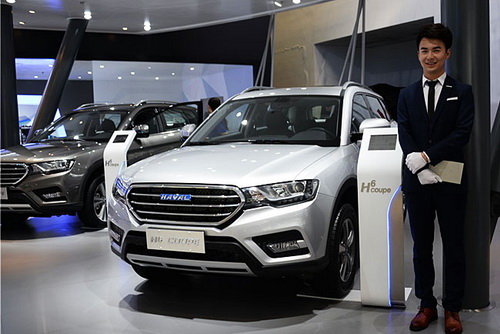 HAVAL H6 Coupe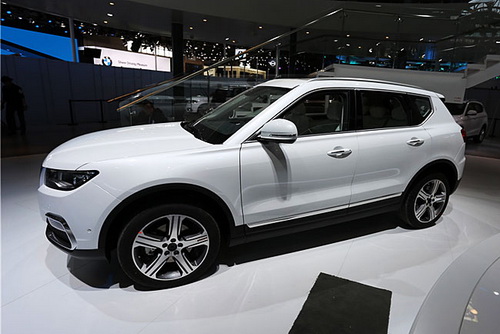 HAVAL H7 and respectively with red logo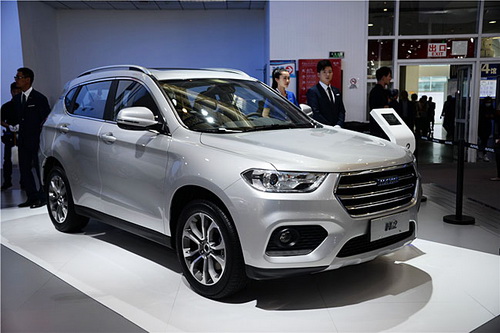 HAVAL H2 respectively with blue logo

Two models of expectant mass-manufactured models (i.e. HAVAL H7 and H2 respectively with red logo and blue logo), HAVAL H9 2016 and HAVAL H8 2016, etc. were also on the display.
The person in charge of HAVAL brand introduced that focusing on SUV is the persistent strategic policy of Great Wall Motor Company Limited. Under the guidance of the Focusing Strategy, the sales volume of HAVAL SUV ranked first in China in 2015, and HAVAL SUV won the title of national sales champion for 13 consecutive years; HAVAL H6 won the title of SUV single model sales champion for 3 consecutive years.
In the first quarter this year, the sales volume of HAVAL SUV was 192,400 with year-on-year growth of 9.60%; the sales volume of HAVAL kept rapid increase in March and that of HAVAL H6 reached to 46,075, hitting a new high in single model sales volume in the SUV market.
Through focusing, HAVAL leads the trend of SUV in China; while the release of H7 shows that HAVAL will keep focusing on SUVs to explore users' demands and guide the Chinese brand to exploit new market.
From Creating Product to Figuring Brand, HAVAL Guiding the Future Trend
In 2015, HAVAL has become the champion in respect of sales service satisfaction for independent brands. The brand strength of Great Wall Motors ranks first in auto group. In the aspects of brand awareness and reputation, HAVAL has begun to surpass the joint venture brands. From creating excellent products to establishing brand value, HAVAL SUV keeps on transformation.
It is understood that, in this year, Great Wall Motor Company Limited will make more investment in technology research and development, enhance the product quality, and successively release the following competitive products: HAVAL H6 Sport 2016, HAVAL H2 with blue logo, HAVAL H6 with blue logo, HAVAL H7 with red logo and HAVAL H7L. Meanwhile, Great Wall Motor Company Limited will continue to provide "Credible Service" and create HAVAL into an international exclusive SUV brand by virtue of its leading research & development and services in the industry.